Probate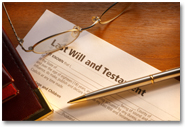 Did you know that California law may require a probate whenever someone dies with only a will or without a properly drafted living trust?
Probate is a complex court process that is usually handled by an attorney. Our office has extensive experience conducting probates. Should a probate be needed in your case, and assuming we are a good fit for you, we would love to help you get through the process as quickly as possible.
It is challenging to lose a loved one. The last thing anyone wants to endure at that time is 12 to 16 months (or more) in probate court. But before final distributions can be made from an estate in probate, the executor must file appropriate petitions, perserve assets, publish notices, communicate with heirs, conduct appraisals, provide for taxes, interact with financial institutions, and sometimes make personal appearances in court. In all of this, the executor must satisfy the complex requirements of California law and meet all applicable deadlines.
We Can Help
Executors who engage us are able to relax, knowing that we have everything covered. They experience meaningful peace of mind at a very challenging time.
We serve probate clients throughout California, especially in Sacramento, El Dorado, Placer, Yolo, Nevada, and Amador Counties. That means that our probate clients live in cities like:
| | |
| --- | --- |
| Auburn | Grass Valley |
| Carmichael | Lincoln |
| Citrus Heights | Orangevale |
| Davis | Rancho Murieta |
| El Dorado Hills | Rocklin |
| Elk Grove | Roseville |
| Fair Oaks | West Sacramento |
| Folsom | Sacramento |
| Granite Bay | Woodland |
When we take a probate case, we usually do not receive payment for our services until the process is complete, and the deceased person's estate bears the cost.
Contact Us Right Away!
If you are the executor of someone's will, or if someone you know has passed away with or without an estate plan, contact us without delay! The sooner you call, the quicker we may be able to get things rolling for you.
You can reach our probate coordinator, Teri Jones, by calling 916.273.9040 or completing the online contact form. Teri will help you to determine if we are a good fit for your needs. We look forward to speaking with you.